Description
OTOFIX IM1
OTOFIX IM1 is a professional and easy-to-use immobilizer & key programming tool that combines superior performance with a streamlined design. It supports read PIN code, key programming, IMMO parts replacement, IMMO type identification, transponder read/write, etc. Equipped with the XP1 key programmer, OTOFIX IM1 is capable of providing extraordinary service functions for the immobilizer system. OTOFIX IM1 key programmer is the best choice in automotive key programming for locksmiths.
Why Buy OTOFIX IM1 Key Programming Tool?
Wide Key Programming Coverage - Supports key programming for more than 2000 models of more than 60 car series.
Smart IMMO Functions - Easy-to-use and reliable
Advanced Features - Able to unlock more with subscription
One-stop Cloud Service - Remote Expert, RealFix, Device/Report Management
Support 18+ languages - English, Simplified Chinese, German, Spanish, French, Traditional Chinese, Japanese, Polish, Portuguese, Russian, Italian, Korean, Dutch, Swedish, Turkish, Persian, Thai, Vietnamese
1-Year Free Update & Warranty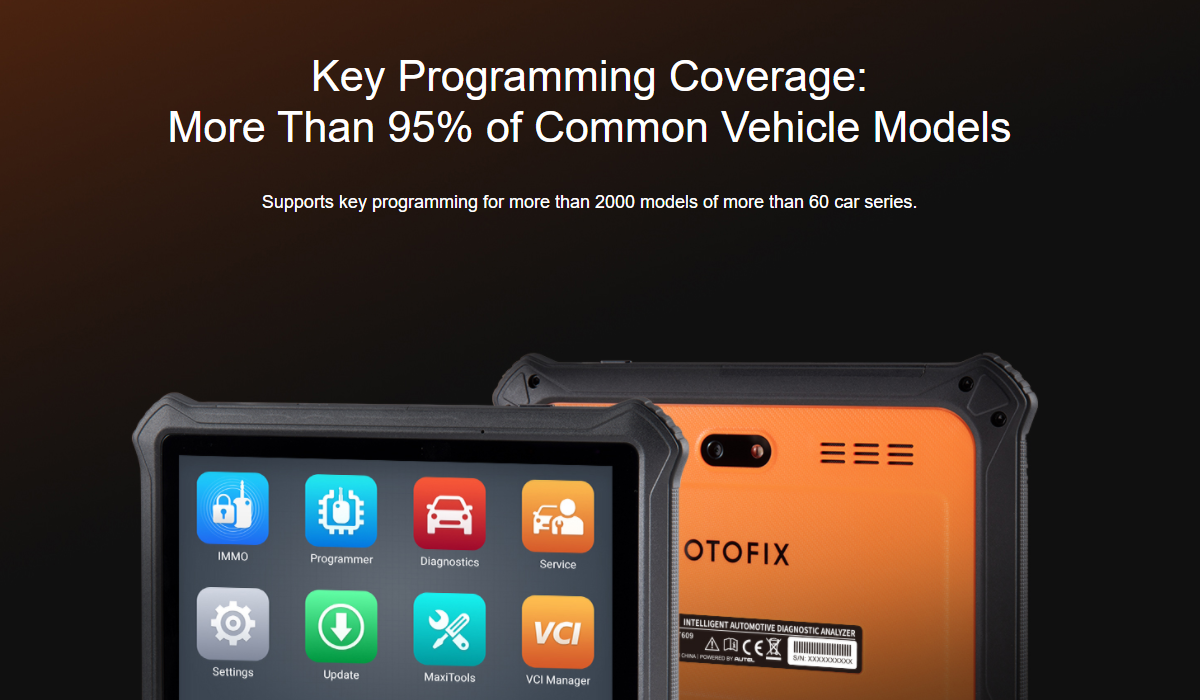 IM1 Smart IMMO Functions
OTOFIX IM1 key programming tool support for expansive list of makes and models, including BMW, Volkswagen, Audi, GM, Ford, Mazda, and Nissa. Equipped with OTOFIX XP1 key programmer to support key read/write and EEPEROM/MCU read/write.
Supports OBD key programming for 80% of vehicle models
Supports All Keys Lost programming via OBD for Volkswagen IV, V and MQB IMMO system
Supports Add Key and All Keys Lost programming via OBD from CAS1 to CAS4 and FEM&BDC IMMO system
Supports key programming bypassing PIN code for all 2005-2020 Ford models
Supports key programming bypassing PIN code for 2019-2020 Promaster, DT-RAM, Jeep Commander, etc.
Supports read password for Hyundai Kia key ID46, 47, 4A, 8A, etc.
AutoVIN Technology
OTOFIX IM1 professional car key programmer scan tool can automatically identify vehicle make, model, and year with AutoVIN/ ScanVIN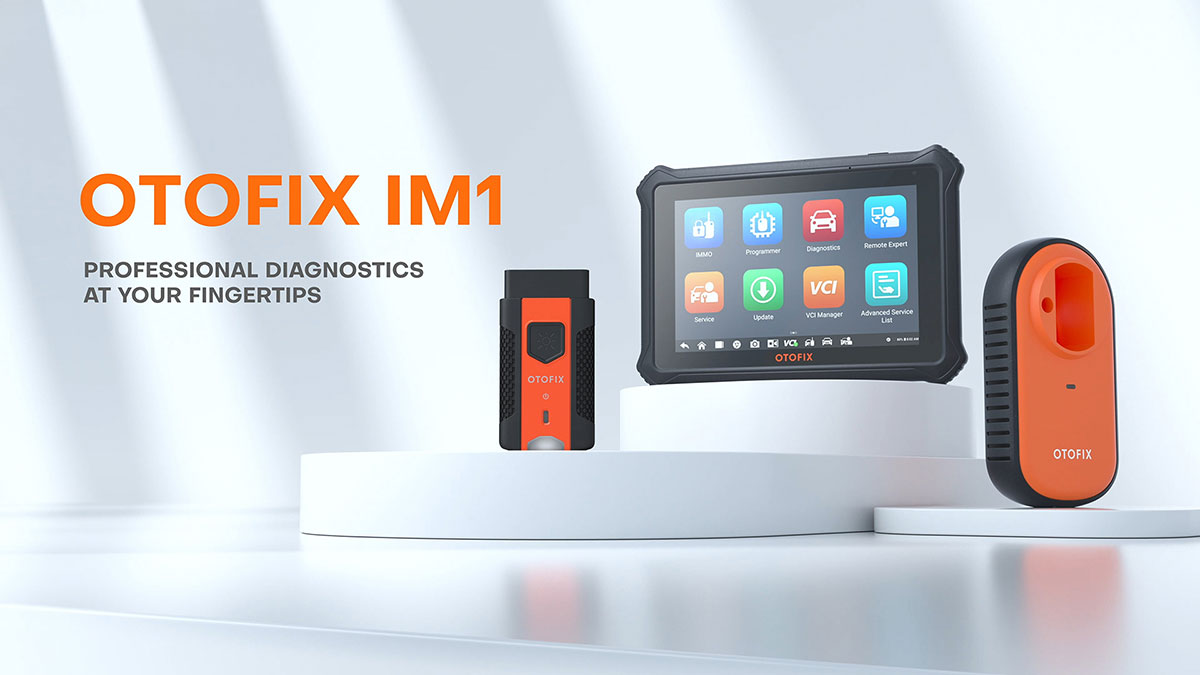 Advanced features by subscription
Autel OTOFIX IM1 also is a professional automotive diagnostic scanner that provides full system diagnostics and 26 special services for more than 80 US, Asian and European vehicles by additional purchase advanced features.
Mercedes: All key lost (on vehicle, fast), renew immobilizer components. (Need XP1 Pro)
BMW: ECU replacement(FEM/BDC,CAS1/23/3+),read ISN by Bench.(Need G-Box2)
Volkswagen: Read PIN by Bench (Need G-Box2), and read PIN by OBD for MED17, MQB ECM replacement and forth-generation replacement
Toyota: All keys lost for transponder 8A. (Need APB112, G-BOX2 and 8A AKL Cable)
Ford/Mazda: PIN bypass for 2020 Mazda(Mazda3/Cx-30),Ford China and Mazda China(Mazda PMI/Mazda2013+) new parameter reset
Mitsubishi: All keys lost for ID47 smart key
Diagnostics: Full systems diagnostics and services functions
One-stop Cloud Service
Remote Expert Support Online
IM1 car diagnostic tool is able to connect seamlessly with OTOFIX cloud service to obtain professional remote expert support online, share diagnostic reports and assist you with any diagnostics problem. (Coming Soon)
Highly Detailed Diagnostics Cases
IM1 key programming tool can provide highly detailed diagnostics cases are available for you to consult anytime. (Coming Soon)
Maintenance Reports Management
With the OTOFIX IM1 key programming & diagnostic scan tool, all maintenance reports are stored in the cloud, allowing you to view device and test records anytime, anywhere. (coming soon)
OTOFIX IM1 Specifications
Operating System:  Android 9.0
Processor:  4x ARM Cortex-A35 (1.5GHz)
Screen Display:  7" LCD capacitive touchscreen with 1280*800 resolution
Storage:  64 GB
DDR:  2 GB
Camera: Rear 8M
Battery:  5800 mAh
Connectivity:  USB OTG Type C /USB HOST Type C/ Bluetooth
Working Temperature:  0 to 45°C (32 to 113°F)
Storage Temperature:  -10 to 60°C (14 to 140°F)
VCI (Vehicle Communication Interface):  V1
Wi-Fi:  Wi-Fi 5
Package List:
OTOFIX IM1 Tablet
XP1 Key Programmer
OTOFIX VI VCI
USB-A to USB-C Cable
USB-C to Mini USB Cable
USB-C to USB-C Cable
Power Adapter
APB001 EEPROM Adapter x 2
APB002 68HC908 Adapter
APB001 EEPROM Clamp Integrated MC9S12 Cable
APA002 EEPROM Socket
Quick Reference Guide
Carrying Case 320*302*126mm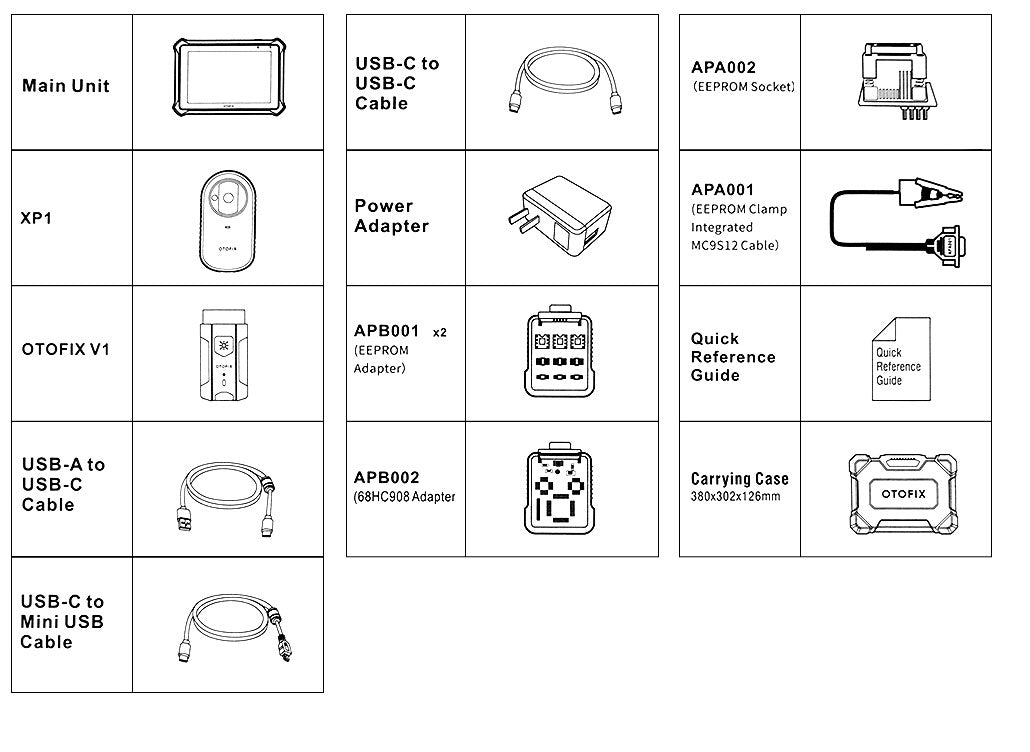 [keywords]OTOFIX IM1, OTOFIX IM1 key programming tool, OTOFIX IM1 immo tool, OTOFIX IM1 scanner key programming, Autel OTOFIX IM1, Autel IM1 obd2 car key programmer,
Shipping Policy
Shipping and Delivery
---
Shipping Cost
- Free Shipping on U. S. orders.
- For International Shipments.
We can ship to most countries in the world. If your shipping address is outside United States you will be charged a shipping fee from $20 to $100 upon your address. And your shipment may incur an import tax or customs duty. These fees are the sole responsibility of you, the customer. Learn more about customs and import duties.
You can get a quick shipping fee calculation based on your destination right on the product page by entering your country, state, and zip code.
Shipping Methods and Location
We ship merchandise worldwide using UPS, DHL, USPS, and FedEx. Currently, We have warehouses in US, UK, Germany, and Hong Kong, your order will be shipped out from the nearest warehouse by you, upon the shipping address you filed.
Your Location
Shipping Address
United States/Canada
Los Angeles, UAS
New York, USA
United Kingdom
Leicestershire, UK
Europe
Germany
Other Countries
HongKong
Delivery Time
Most U.S. orders will be shipped out within 24hours and received it within 3-5 business days after shipping. Tracking number will send to your email after shipping.
For International orders, it will cost 2-3 weeks for delivery if we don't have set warehouse in your country.
P.O. Boxes
For security reasons, we do not ship to P.O. boxes, so pleae fill your phscial shipping address when checkout.
Shipping Restrictions
Purchases shipping outside the United States may have local taxes, duties, etc. Please note that if we send item is not from your local warehouses, customers are responsible for paying import tax situation in your own country. And These charges are not included in the purchase amount.
---
Have more questions on shipping, Contact us directly, we are glade to help you address out.
Order Processing and Tracking
---
Once your order is placed, we will send information about your order to the email address you provided during the checkout process.
Order confirmation
The order confirmation email will send to you when checkout the order and provides a summary of the items on your order and shipping address & billing address info. Once you have confirmed, we will ship your order out at the same business day.
Order Processing
Orders received before 5pm PST will ship the same business day. Orders received after 5pm PST will ship the next business day.
Shipment Notification
Once your order has shipped, we'll send a shipment notification email. This email includes the carrier name, tracking number, and delivery date. You can click the tracking number to track your package on the carrier's website.
Order Tracking
To track the status of an existing order, go to our Order track page. Enter your Tracking Number to view the status of your order. You can find the Tracking Number in the Shipment Notification. If you are not able to locate your Order/ Tracking Number, or have any additional questions regarding the status of your order, please submit your questio to contact us.
---
Have more questions on your order, Contact us directly, we are glade to help you address out.
Payment & Security

Your payment information is processed securely. We do not store credit card details nor have access to your credit card information.